World Rural Tourism "Top 100 City"——Zhenjiang
*Introduction of Zhenjiang

Zhenjiang, known as Jingkou, Runzhou and Nanxu in ancient times, is a prefecture-level city under the jurisdiction of Jiangsu Province, one of the 27 cities in the central region of Yangtze River Delta, and an important port and scenic tourist city in the Yangtze River Delta of China as determined by the approval of the State Council of the People's Republic of China.
*Recommendation of the key village of rural tourism
Dai Zhuang Village is located in Tianwang Town, Jurong District, Zhenjiang City, Jiangsu Province. The village makes full use of local agricultural resources to develop "agriculture + tourism", further improve the efficiency of the agricultural industry, extend the industrial chain, and accelerate the development of the integration of production, processing, sales and distribution, and agricultural tourism.
* Recommendation of Rural B&B
Shanshui Inn ranks as among the first batch of national tourism B-class B&B, and Zhenjiang City's Rural Tourism "Diamond B&B". Located in Jiangsu provincial tourism resort Shiye Island, Jiangsu rural tourism key village Shiye Village, which is surrounded by water, lush vegetation, quiet environment, is the ideal place for vacation and leisure. It is named after the immortal's residence "Fuyu", with oriental aesthetics as the theme and natural landscape as the scenery, the Huizhou-style houses with pink walls and tiles, the pavilions and courtyards are simple and elegant, and the ultimate in comfort is pursued in every detail.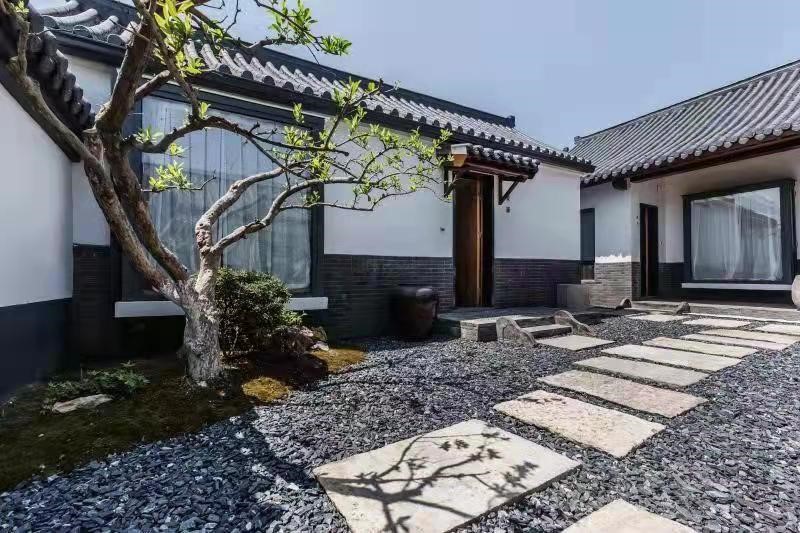 * 10 classic rural tourism routes of Zhenjiang
Red Rural Tour
Route 1: D1: Maoguan Chenzhuang Village - Maoshan New Fourth Army Memorial Hall - Maoshan Iron Army Camp; D2: Zhao Yafu Deeds Exhibition Hall - Baisha Tragedy Monument - Nada Shanshui Ecological Park.
Route 2: Weigang Battle Memorial Museum - Xing Hu Village, Situ Town - General Front Committee Old Site Memorial Museum - Hejia Battle Old Site Memorial Museum
Route 3: Ziyang Botanical Garden - Dujiang Cultural Park - Chen Cusheng Museum Group - Yangzhong City National Defense Park - -Jiangnan Anti-Japanese Volunteer Army Advancement Team Meeting and Integration Monument -Limin Village Party Hammering Center
Route 4: New Fourth Army Four Counties Anti-Enemy General Association Memorial Hall - Wenjie Poetry Museum - Leng Yu Former Residence Memorial Hall - Zhao Bo Xian Former Residence
Countryside Study Tour
Route 1: Vinegar Culture Museum - Mi Fu Calligraphy Park - Shiyezhou Happy Farm - Shiyezhou Satellite Village
Route 2: Jingkou Goshe - Ruli Village, Yaoqiao Town - name mountain Touju RV campground - Tianmu Hot Spring Resort, Mountains
Route 3: Wo Mu Agricultural Expo Park - Jiangsu Tea Expo Park - Mao Bao Ge Garden - Ding Zhuang Village, Mao Shan Town - Chishan Lake National Wetland Park
Country Culture Tour
Route 1: D1: Mao Mountain Scenic Area - Tianwang Flower and Fruit Original Fragrant Shibazakura Town - (overnight stay) Fanjing Flower Blossom B&B
D2: Ge Xian Lake Park - Qian Hua ancient village - (overnight stay) 36 seasons B&B
Route 2: Yanling Town Jiu Li Village - Yanling Town Liuru Village - Qu'a Street Qiqin Village Xiashu - Visit Xian Town Xiaojia Village Xiaojia Lane - -Lujia, Changchun Village, Danbei Town
Route 3: Yangtze River Fishing Culture Ecological Park - Xu Fu Countryside Leisure Park - Garden Expo Park - South Lake Farm